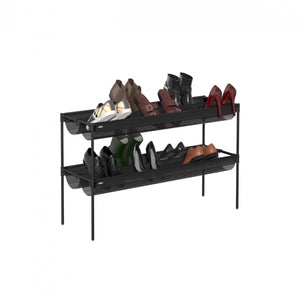 This versatile shoe rack allows for ample shoe storage (it holds up to 16 pairs of shoes) and is stackable, using vertical square footage rather than floor space. Each rack contains two rows of pockets, which can be used to store shoes as well as other accessories like umbrellas and bags.
Despite its small footprint, this two-tier shoe rack holds 16 pairs of shoes and each rack contains two rows of pockets. Two racks stacked together measure 35 x 12 x 25 inches.
The width of the pockets on SHOE SLING are adjustable and can be used to store items other than shoes, like umbrellas and bags. In a kid's room, it can be used for storing toys and books.
The mesh on SHOE SLING was chosen because it's machine-washable and breathable, which reduces shoe odor and moisture buildup.
With elegant lines and sleek pockets, this shoe rack will hold lots of shoes but also look great as your entryway shoe organizer.
Pairs nicely with Shoe Dry: SHOE DRY (sold separately) is a mat for drying and storing shoes designed to slot neatly under SHOE SLING. Great for rainy, snowy days and for adding extra shoe storage to your home.