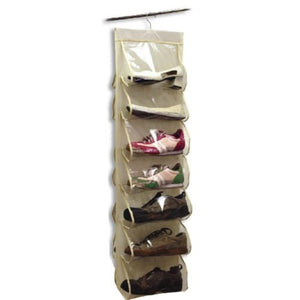 Holds Seven Pairs of Shoes
Slim Design
Perfect for Closet Organization
Tired of the shoe boxes stacking up in your closet? Are you wishng there was an easier way to organize the hundreds of pairs of mismatched shoes? Well, now you can with the Hanging Shoe Organizer for your closet by Innovative Home Creations! Using it is simple, just slip one show in each pocket and you can easily hold seven pairs of shoes and its slim and innovative design, allows for you to keep your closet free of clutter!