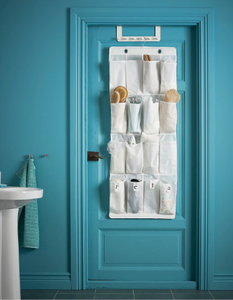 There's plenty of room for both shoes and small things in the 16 pockets.
You can hang the shoe organiser on a clothes rail or on hooks, since it has both a hanger and eyelets.
If you want to adjust the length you can fold up a row of pockets and fasten it on the back using the hook and loop fastener.
Fits PAX wardrobe frames, 58 cm deep.
Hanger is included.
Designer:
IKEA Of Sweden
Product Dimensions:
Width: 55 cm
Depth: 7 cm
Height: 150 cm
Min. height: 115 cm