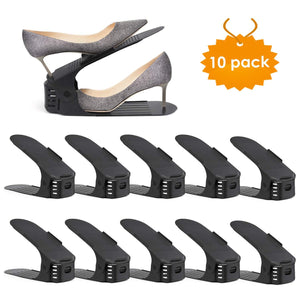 【OPTIMIZE SPACE EFFICIENCY】Choose Amzdeal shoe slots now, and you can save 50% percent of your storage capacity Immediately! Best possible space saving solution for your shoes at home. You can buy more shoes that you like do not have to worry about quickly finding the right pair of shoes.
【3-LEVEL HEIGHT ADJUSTABLE】Amzdeal shoe organizer can be folded and the upper shelf angle is adjustable at 9/13/17CM.It is conveniently fit to any shoes such as stiletto, low/middle/high heels, sneakers, slippers or sandals.You can also store the shoe stacker flat and make it comfortably fit in the drawer.
【SUPER ANTI-SLIPPING DESIGN】Our shoe holder is specifically designed with top flaps at both sides and behind, along with little bumps on the surface to prevent the upper shoe from slipping off,keeping your space tidy and neat.
【UPGRADED QUALLITY】The shoe holders are made of high quality durable green non-toxic PP to ensure your health and protect the environment. An improved thickness makes it quite unlikely to be broken by heavy pressure or frequent use.Worth every penny!
【CONSIDERATE DETAILS】It's got a adjustment button at the back,you can change the height very easily within a second. The hollow bars aside the adjuster and the very open structure as a whole make more space for air circulation. Sturdy joints provide firm holding of your beloved shoes. Easy to operate and clean.