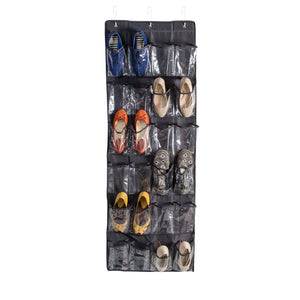 Conveniently stores shoes and accessories for easy access
Holds up to 12 pairs of shoes
Organizer coordinates with other Honey-Can-Do soft closet storage
Durable non-woven fabric for long-term use
Hangs over any closet rod
Dimensions: 21"L x 1.5"W x 57"H
SFT-08203
Your closet is like your safe haven, only it's not anymore. Your shoe habit has gone a little overboard and they are now in boxes on shelves above and strewn below at your feet. Simplify your closet, and thus your life, with this 24-Pocket Over-The-Door Shoe Organizer in Grey Canvas. Shoe pockets become home to your tennis shoes, your flats, your casual Friday shoes – you name it. Use it for storing fashion accessories or socks and undergarments. Also doubles as arts and crafts supplies storage for the creative type. Now you've decluttered your closet and, more importantly, you've decluttered your mind. A safe haven, once more.