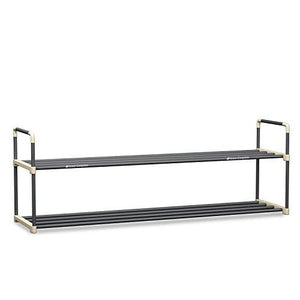 STURDY AND RELIABLE CONSTRUCTION - Made from durable and high-quality polymer plastic, your large shoe organizer is built to last

STORE UP TO 12 PAIRS OF SHOES - Great dimensions 40.94 inch L x 11.8 inch W x 13.3 inch H Amazing shoe cubby tower - Finally, you'll longer be tripping over shoes in your entryway or embarrassed when guests come to visit and see your shoes laying everywhere or using shoe bags/boxes or garment racks. If you love shoes, this is a great organizational tool you'll ever own. Ideal for closets, cabinets, hallway and entry shoe storage

QUICK AND EASY ASSEMBLY - No tools are required. Simply fasten the rails to the handsome large white resin stands and you're ready to go. You can remove your shoe rack organizer from the box it ships in and have it assembled in under 5 minutes

ULTIMATE IN CONVENIENCE - Perfect for adult men women and kids shoes and boots. This floor shoe racks dimensions make it easy for you to maximize your small closet space

10 YEARS LIMITED MANUFACTURE WARRANTY

Size : 2 tier - 12 shoes
Tired of messy piles of shoes? Then it's time to get organized with your Shoe Rack Organizer by Home-Complete!
Finally, keep your shoes organized, out-of-the-way, and in like new condition thanks to your Large Shoe Organizer.
Here are the Reasons to Purchase Your Shoe Rack Organizer Today:
1) It holds up to 12 pairs of shoes!
(Organize the shoes you have ... or orchestrate a shopping trip to fill up your new shoe rack!)
2) It's a snap to assemble!
(No tools or messy glues needed. You'll have it ready to go in minutes.)
3) Get your closet organized For Good!
(If you're tired of worrying about piles of shoes cluttering your floor, you Need this shoe rack organizer.) Shoe Rack Dimensions 40.94 inch L x 11.8 inch W x 13.3 inch H
4) Heavy duty, high-quality construction!
(It won't buckle and fall apart like other shoe racks!)
Order your own Shoe Rack Organizer today. Use it in your own home to organize and maintain your shoes.

Once you've seen with your own eyes how easy this Shoe Rack Organizer is to assemble, how neatly it keeps your beautiful shoes organized and safe from scratches and scuff marks, we have no doubt you'll be very pleased you made this purchase!


10 YEARS LIMITED MANUFACTURE WARRANTY